Have Fun At Work!
We know a thing or two about teamwork and having fun with your coworkers. Here are some of our favourite ways to connect with your colleagues this 'Have Fun At Work Day'
We were a little surprised to hear that the last Friday of January has officially (if you count daysoftheyear.com as 'official') been deemed 'Have Fun At Work Day'. One day?! Even we understand that each day in the office isn't going to be one long party, but only having fun at work for one day of the year sounds a little sad to us! Evidence shows that when employees are happy, organizations thrive. Happy employees are more productive, successful and loyal - a win-win situation!
Looking to liven up those office days? The CCC team are here to help! We know a thing or two about having fun at work (it's literally part of our organization's mission statement), so we're sharing some of our favourite ways to get to know your coworkers and make those workdays a little more fun!
Zoom Happy Hours
Ever since we've been working from home, our team has done a Friday evening Happy Hour on Zoom. While we have team meetings throughout the week, these chats at the end of the working week are our chance to grab a drink, chill out and hang with work friends on Zoom. Work topics are banished, so instead, we spend an hour or so catching up on life, discussing our weekend plans or playing a game - some of our favourites include Fortnite, backyard.co, Poker and Jackbox. We once tried to play a non-virtual board game, with one person moving everyone's pieces... would not recommend that one. There are online versions of many popular board games now that make things much easier! We even tried an online escape room, which was a lot of fun.
Virtual Amazing Race
Those of you that were CCC members last year may have taken part in our Cyberspace edition of the Amazing Race. We're pleased to announce... it will be back! Join us on Tuesday, March 23 for a brand new virtual adventure around the world! Amazing Race: March Madness will be our first Off-Season Event of the year and money raised will be split among our 10 Charity Partners. Visit our Event Page to find out more!
Video Game Tournaments
We mentioned Fortnite earlier and while we were a little unsure of how it would go when we first started playing, we can now say we are fans! There is a big teamwork element to this game and you will get good at communicating with each other very quickly (even just trying to coordinate when to jump out of the Battle Bus is a skill)! Fortnite not your thing? We've also tried League of Legends, Rocket League, Call of Duty and Overwatch, all of which are great games for teams. If you're into sports, why not try organizing a FIFA or NHL tournament on PS4? We've even seen companies streaming their games on Twitch and getting cheered on by their coworkers.
Socially Distanced Lunches
This one will really depend on what the current COVID-19 regulations in your city are, but back in the summer of 2020 when gathering with other households was allowed in Calgary, our team met up in a park for some socially distanced lunches.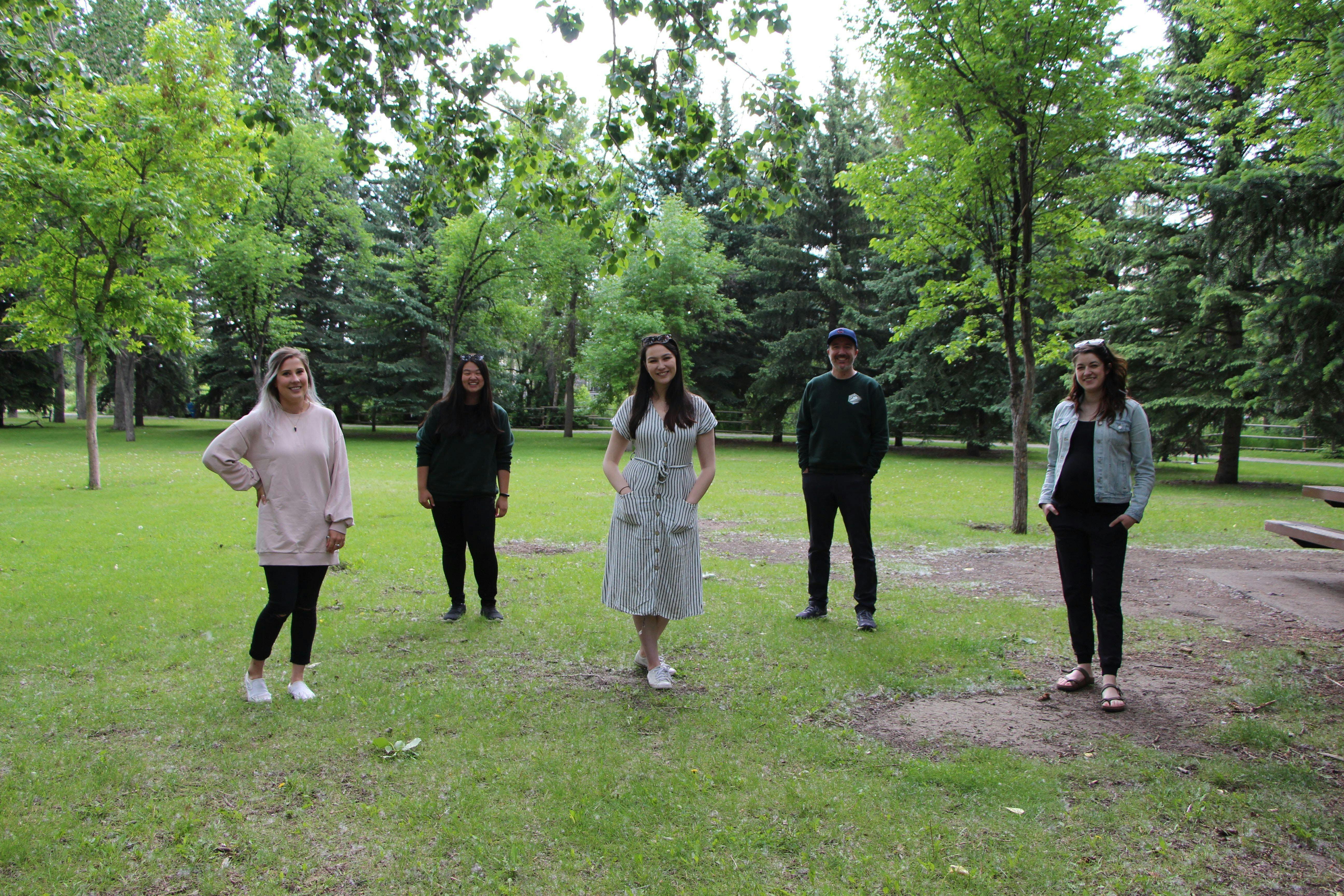 We ordered food to-go from our favourite local restaurants then spent an hour or so catching up (whilst 6ft apart). Even though we talked to each other daily over Slack or Zoom, it was great to be able to laugh and chat together in-person.
(While we can't meet up in-person right now, we're all optimistic things will be better in our province soon. Please continue to wear masks, stay safe and follow the current government regulations, wherever you are.)
Virtual Trivia Nights
One of our most popular events from last year was Virtual Trivia. Hosted by Doug from The Know Show Trivia Company, we had hundreds of people logging into Zoom with their teams to take part in our quiz night.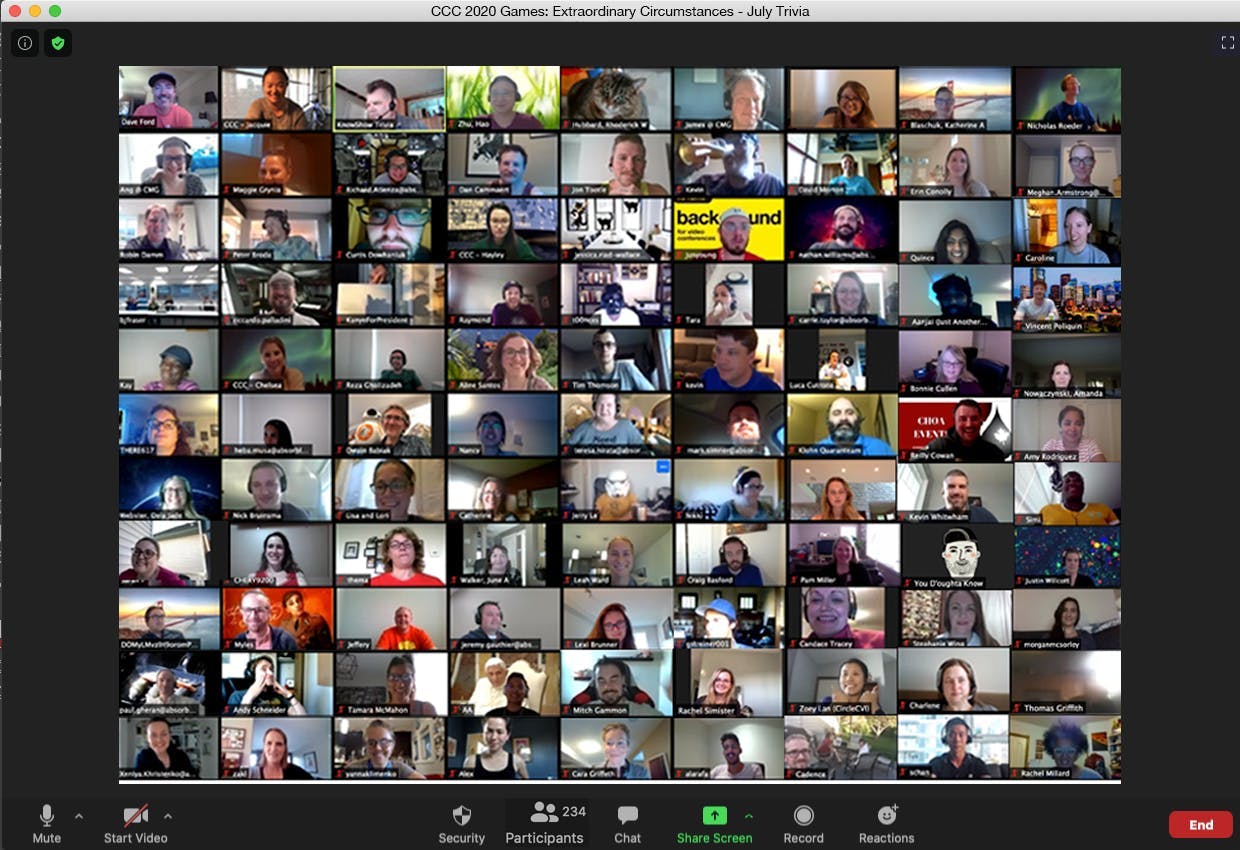 If you were interested in having a virtual Trivia night of your own, Doug is available to custom-make and run the event for you. You can get in touch with him here. We will also be running a CCC Trivia Night later on in the year - follow us on Facebook for all of the latest news on our events!
Cooking Classes and Cocktail Making Kits
The team at Concorde now have a whole list of virtual experiences, with ingredients delivered straight to your door. You can assemble a range of appetizers, get a pizza making kit from Double Zero or even try your hand at sushi rolling. Order some kits, join your coworkers on Zoom and cook along with some of the best chefs in the city!
Less about the food and more about the drinks? They've got you covered. Cocktail Making Classes, Wine 101, Sake 101, Bourbon Tasting and Rum Tasting are just some of the current beverage experiences they're offering. You can email them at events@concordegroup.ca for more information.
The September Games
Of course, we would say that the very best way to have fun with your coworkers is by signing up for the September Games! For anyone new around here, the September Games is a 16 day festival of events that brings together 150+ Calgary companies (that's over 10,000 people!) to face off like Olympians against the best of corporate Calgary. It would be difficult not to have fun when you're racing around the Stampede Grounds during the Amazing Race, throwing axes at BATL or cheering on your team at soccer! As part of the Games, we have a Charity Challenge, in which participants support 10 local charities. Whether that's a group blood donation session, signing up for a workplace Lunch and Learn or cooking meals for families in need, giving back to the community together is a great way to strengthen your bond with your coworkers.
The September Games are a unique event in our city and there's a reason that companies come back year after year to take part - not only do companies have the chance to compete for our coveted trophies, they report a big increase in team bonding and company pride. Add some fun into your office and boost your company morale with events your team will be talking about for years to come!
Visit our Event Page to sign up for the September Games or message us here for more information.
How are you making your workdays more fun? Tweet us your top tips here!