Guest Blog: National Blood Donor Week
This guest blog was written by our friends at Canadian Blood Services. Keep reading to learn more about the importance of new donors to support Canada's Lifeline.
NATIONAL BLOOD DONOR WEEK SHINES A LIGHT ON THE NEED FOR 100K NEW DONORS
by Jessica Cunha, Strategic Communications Specialist
We are shining a light on the donors who have continued to show up for patients across Canada throughout the pandemic during National Blood Donor Week, taking place June 12–18.
We are also spotlighting the immediate need for new donors to make appointments to donate blood or plasma.
Over the course of the pandemic, the number of people across Canada who donate regularly has decreased by 31,000. Our donor base is now at its lowest level in a decade, largely due to the COVID-19 pandemic.
We need to attract 100,000 new donors this year to ensure a strong blood, platelet and plasma supply.
National Blood Donor Week and World Blood Donor Day, on June 14, provide great opportunities to thank and celebrate our loyal donors. By shining a light on these incredible contributors, we can inspire others to follow their powerful example and join Canada's Lifeline.
It's also a chance to thank you, our employees (many of whom are donors as well) for the important roles you play in managing the national blood supply.
Every year we see a natural turnover of donors. It's why we continuously recruit new donors to maintain a stable blood supply. This year, the need is even greater due to the pandemic and the inability to recruit at in-person community events.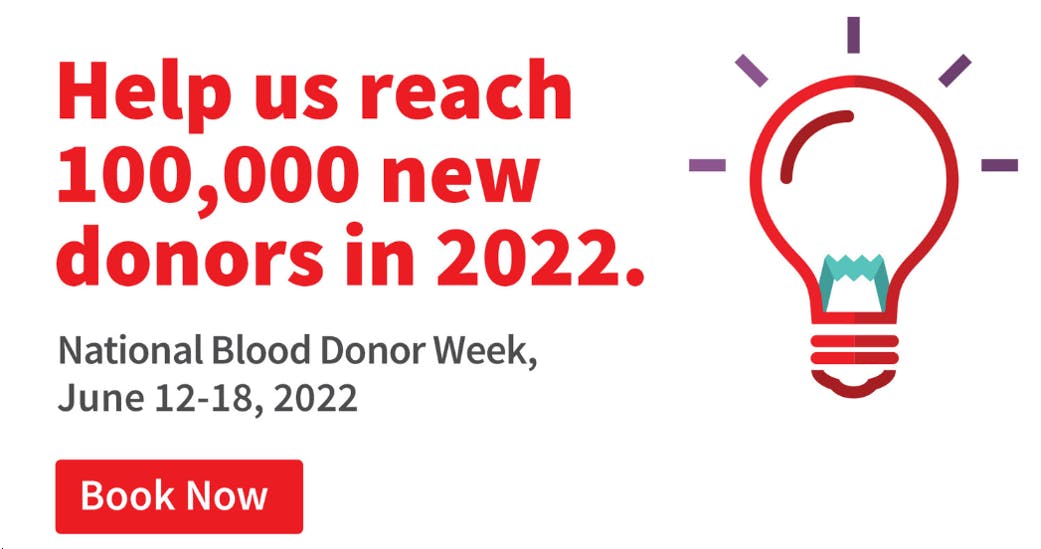 What you can do
Here are four examples of how you can help us shine a light on the need for more people to join Canada's Lifeline.
Donors are vital links in Canada's Lifeline. Without them, we could not supply hospitals with lifesaving blood products.  
There are many ways donors are part of Canada's Lifeline. Whole blood, plasma and platelet donations are critical for saving lives. Donors can also join the national stem cell registry, register their intent to be an organ and tissue donor and make financial contributions to Canadian Blood Services.  
Thank you for helping us shine a light on the need for new donors and inspiring people across Canada to strengthen Canada's Lifeline. Find additional ideas, inspiration and prepared social media graphics for your messaging by visiting our National Blood Donor Week portal. If you have any questions, please reach out to communications@blood.ca.
BY THE NUMBERS
100K new donors needed this year. 31K regular donors lost throughout the pandemic. 1 in 2 people are eligible to donate blood, platelets and plasma in Canada but only 1 in 81 actually do.
Calgary Corporate Challenge is proud to support Canadian Blood Services, one of 10 local charity partners in the 2022 September Games.