2021 September Games - Award Winners
With the September Games finished for the year, it's time to look back at our 2021 winners!
Well, another September has come and gone with the blink of an eye!
This year was similar to the last in that we focused on keeping our participants comfortable and safe through a majority of virtual events, with a little sprinkle of some safer, outdoor events. We were still able to have our usual number of 22 events - everything from Esports, virtual Trivia and the Amazing Race, to Bocce, Horseshoes and even a brand new event - Rowing! 
We had lots of passionate teams taking part this year - some for the first time and some long time participants. We're already looking forward to welcoming our participants back for a (hopefully) more in-person September Games again next year (fingers crossed)! 
As with every year, we have a number of awards to hand out to our participating companies. So without further ado, it's time to congratulate this year's winners!
CEO Challenge - Sponsored by BDO
Presented by BDO, our CEO Challenge was formatted as a photo Bingo card with 8 squares for our CEOs to get involved. The challenge gave our teams some great opportunities to get outside, get together (safely) and explore some of our city! The companies that were able to get all 8 of the CEO squares completed were: 
Achen Henderson
AlbertaRE
Canadian Pacific Railway
Emerson Automation Solutions
Imperial Oil
Klohn Crippen Berger
Suncor Energy Inc. 
Honourable mentions for other companies that participated and were able to get some great photos of their team: 
Spartan Controls
AESO
Mark's
BDO
ISL Engineering 
GLJ Ltd. 
MNP
Summer Challenges
We decided to run our Summer Challenges for the second year! These Challenges gave participants an opportunity to get outside, stay active, or even train for the upcoming September Challenges. These casual, self-reporting Challenges were open to all employees from registered companies, no matter where they were based in Canada, so even more people could take part. Participants of these challenges were entered into a draw from each of our Sponsors to win a pair of Beats headphones! 
Draw Winners:
Deanne M. from Pason Systems - Suncor Step Challenge
Vince B. from Hexagon - Nutrien Cycle Challenge
Max S. from Suncor - ROSEN Run Challenge
September Challenge Winners
We also ran the Step, Run and Cycle Challenges for the duration of the September Games, but this time, points were at stake! Participants from the top teams were asked to verify their steps/kms/distances and have been verified by the CCC staff, so we can now announce the top-scoring companies for these Challenges:
Suncor Step Challenge
1st Place - Canadian Pacific (1,854,766 steps)
2nd Place - Alberta Electric System Operator (1,635,786 steps)
3rd Place - Suncor Energy (1,409,527 steps)

ROSEN Run Challenge 
5KM
1st Place - Cenovus Energy
2nd Place - Repsol
3rd Place - AESO
10KM
1st Place - Cenovus Energy
2nd Place - AESO
3rd Place - ATCO
Nutrien Cycle Challenge
1st - Suncor (4241 km)
2nd - ATB Financial (3045 km)
3rd - Syncrude (2837 km)
Thank you to our Sponsors for providing the draw prizes and for supporting CCC once again.
Design Challenge
If you've taken part in the September Games in the past, you may remember that we have traditionally had a T-Shirt Design Challenge. While we love this challenge and the creativity it brings, we didn't see the practicality of making t-shirts that no one is going to see (WFH life)! Our Design Challenge this year was to design something that encapsulated our Back to the Future theme for 2021.
We loved all of the entries this year but one really stood out to us: Suncor Energy!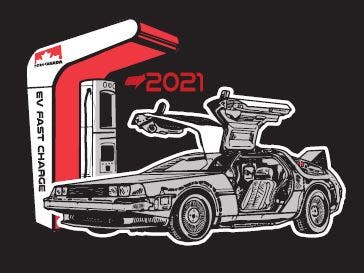 CCC's Got Talent
Our first year ever for this new Trophy - CCC's Got Talent! 
We gave our teams the opportunity to show off any talent they wanted and we got some very cool submissions! Our winners for this new trophy showed off their insane talent for trick shots around the house - congratulations to Cognera!
Charity Challenge
A huge part of the September Games is the Charity Challenge; this Challenge gives our companies 5 different opportunities with each of our 10 Charity Partners to help out their community, give back, and earn some points while they're at it. We like to think that everyone is a winner in this Challenge - the real gift is giving back! 
Our top Charity Challenge teams, as decided by the Charities: 
Imperial Oil 
Suncor Energy
Spartan Controls
Honourable Mentions to: 
ATCO
Emerson
Hexagon
ISL Engineering
Spirit Awards
One of the most coveted awards is the Spirit Awards! In a traditional year, the Spirit Award is limited to one per division and it goes to a company that showed us outstanding teamwork, sportsmanship and overall great spirit. There certainly wasn't a shortage of teams that showed great company spirit and while we would have liked to give an award to everyone, we are a non-profit and our budget doesn't stretch that far!
Each of the companies we selected showed us what a great team they were and we're very happy to present them with these awards!
Helcim: 2021 was Helcim's first year back with us after a brief hiatus and we have to admit, they hit it out of the ballpark! Not only did they take part in a ton of events and have a great social media presence, their team truly embodied what CCC is all about and why we do what we do - great company culture, supporting the local community, teamwork and having fun! 
ATB Financial: Another team that took part in almost all of our events, ATB Financial is our next Spirit Award winner! It goes without saying that a lot of what we do rests on the dedication and help from your Company Captains; this year, ATB's Captains really stood out as the most engaged team! We also have to give a shout out to how great their Rowing team was being the one team to compete in their heat - kudos!
Imperial: Imperial is a long time CCC participant but that doesn't mean that they've slowed down. Their team maxed out their points in the Charity Challenge (the only team to do so!), really showing their support for the local community. They also competed in every single Summer Challenge and Special Event throughout 2021!
2021 Overall September Games Winners
These companies are our top participating teams - earning the most points overall through Charity Challenge points, medals, and most importantly, participation! 
In 3rd Place with:
118 points overall
2 Silver medals, 4 bronze medals
2nd highest Charity Challenge points 
Participation in every special event and summer challenge
3RD - SPARTAN CONTROLS
--
In 2nd Place with: 
132 points overall 
3 Gold Medals, 1 Silver Medal, 1 Bronze Medal 
3rd highest point total in the Charity Challenge
Participation in every special event and summer challenge
2ND - SUNCOR ENERGY
--
And in 1st Place, our 2021 September Games winner with: 
146 points overall 
3 Gold Medals, 5 Silver Medals, 1 Bronze Medal
Big team participation in the ROSEN Run final day
Our Esports heroes…..
(Drumroll please……) 
1ST - CANADIAN PACIFIC RAILWAY
--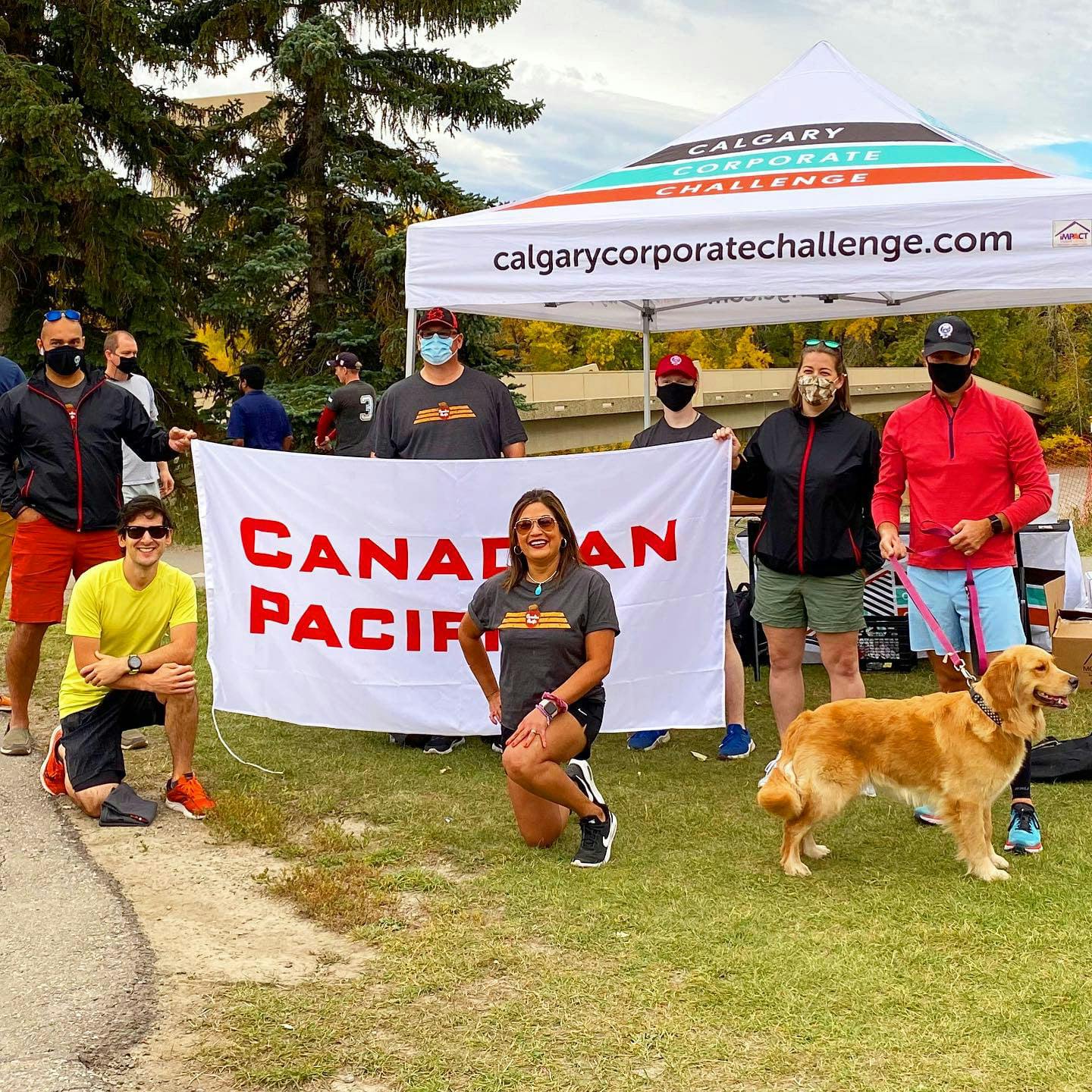 Thank You!
Congratulations to all of our winners and participants! We can't say thank you enough to our participants, volunteers, and sponsors; they are truly the reason we work so hard throughout the year to put on the September Games. We love seeing everyone getting involved in the community, building company culture and teams, and getting to know the multitude of companies, people, and charities that make the Calgary Corporate community so great.
Thank you again for a great year. We can't wait to see what next year brings!