Frequently Asked Questions
Have questions about The Games? We have answers.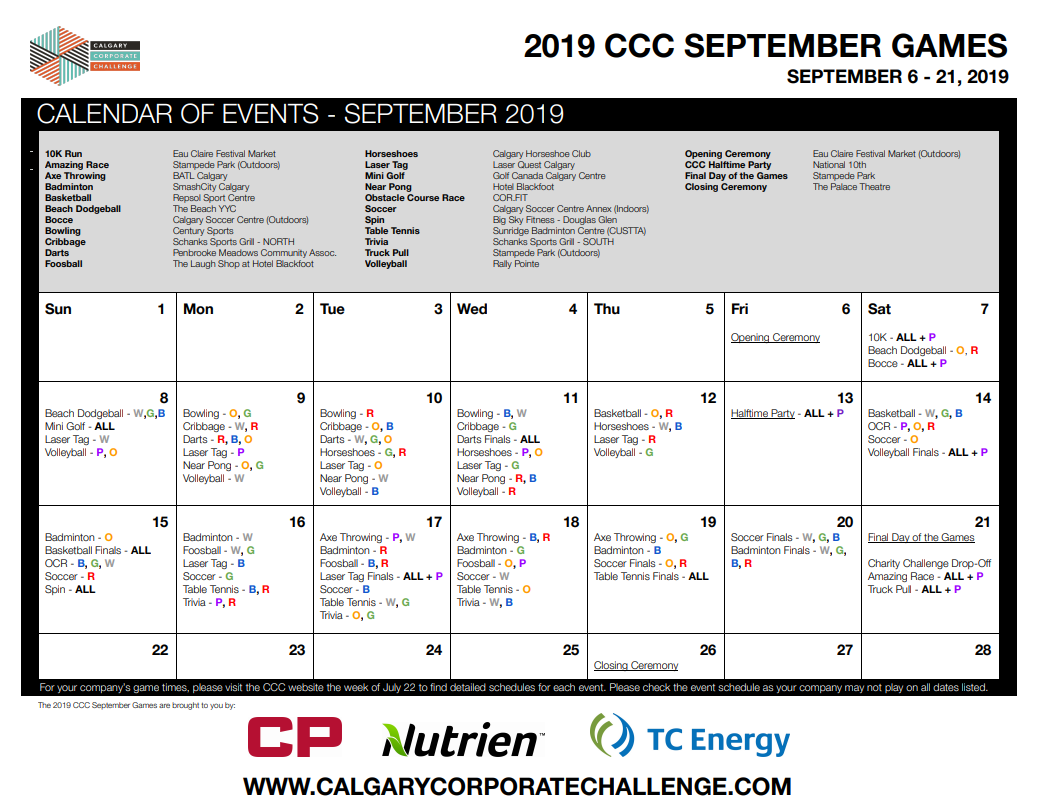 In the simplest of terms, CCC itself is an events company that plans and delivers dozens of cross-industry networking and corporate team building events every year. The September Games are basically our crown jewel and the only of our offerings that requires that people participate with and ​through​ their employer.
The clue is in the name: September! More specifically, the 2019 Games begin Friday, September 6 and end on Saturday, September 21.
The action happens outside typical work hours during the evenings and weekends, with the exception of optional events that may go down over the lunch hour.
Usually we open registration in November and offer Early Bird prices until January 31. From February on, regular registration will remain open until we reach capacity or until March 31.
We only have the capacity to accept 25-30 new-to-CCC companies each year, so act fast!
Registering for the CCC September Games can be done online, after all it ​is 2019. The fees that are charged for registration covers a company's participation in the September Games. Any expense outside of this (company t-shirts, practices, kickoff parties, performance enhancing snacks*) is totally optional and at the discretion of each participant or company.
If the online payment option doesn't strike your fancy, you can email us to request an invoice and pay by cheque.
*nachos. Always.
Less than you'd think! New companies pay just $999 plus GST and processing fees to Get in the (September) Games. Returning companies pay according to their total eligible employee count in Calgary & Area.
Our off-season events will be priced individually.
Orange, Red, White, Green and Blue Divisions will have access to the following sports/games, in addition to all special/social events and all events under the umbrella of the Charity Challenge:
10K, Amazing Race, Axe Throwing, Badminton, Basketball (3 on 3), Beach Dodgeball Bocce, Bowling, Cribbage, Darts, Foosball, Horseshoes, Laser Tag, Mini Golf, Obstacle Course Racing, Soccer, Spin, Table Tennis, Trivia, Truck Pull, and Volleyball..
Purple Division companies will have access to the following sports/games, in addition to all special/social events and all events under the umbrella of the Charity Challenge:
10K, Amazing Race, Axe Throwing, Bocce, Foosball, Horseshoes, Laser Tag, Obstacle Course Racing, Trivia, Truck Pull and Volleyball.
The event selection process happens separately from registration. Event selection will be available starting in mid-May and ending in mid-June. Participating companies will receive detailed instructions and tentative calendars later in the Spring to help inform the selection process.
The 2019 Charity Challenge is an optional undertaking leading up to and throughout the CCC September Games. The Charity Challenge begins on March 1 and ends on the final day of the Games (September 21). If they opt to, companies can earn points toward their totals in the September Games which absolutely can determine final standings.
CCC partners with 10 local charities and each of these groups puts forth 5 Giving Opportunities, ranging from volunteer opportunities and in-office learning experiences, to requests for tangible and monetary donations.
In 2019, CCC will be supporting the following charity partners:
Branch Out Neurological Foundation
Big Brothers Big Sisters
Calgary Food Bank
Canadian Blood Services
Drop In Centre
Green Calgary
Heart & Stroke
HomeFront
KidSport Calgary
Ronald McDonald House - Southern Alberta Chapter
a)  Purple Division say whaaaat?
As a new-to-CCC company, you'll participate in our Purple Division against 25 to 30 other newbies. In this division, you'll get access to 11 of the sports and games that we offer for the Games, as well as all charity giving opportunities and social events. 11 sound like a lot? It can be. Don't worry, your company can choose to take on as many or as few of these 11 activities as you wish. Double-don't worry: this selection process doesn't take place until May/June, so you aren't expected to have this figured out when you register for the Games.
To secure your company's spot, you can ​register online​ for just $999 (plus GST and processing fees) which covers your participation in up to 11 events, or send us an email to request an invoice to submit your payment by cheque. These spots fill like the griddles that produce hotcakes, so don't delay.
b)  Purple not your favourite colour?
Companies who are looking to bypass their rookie year in the Purple Division and access all 22 events can do so through sponsorship. Interested in knowing more? Get in touch with us (info@calgarycorporatechallenge.com)!
c)  What should our company expect?
CCC will work closely with individuals at your company to help you get organized, prepare for the Games and have a successful first year. We recommend assigning 2-4 leads within your company to spearhead these efforts; we call these people "Company Coordinators".
All communications from CCC will be sent out to Company Coordinators who will be responsible to get the information to others at their company (social committee, team captains, participants, etc.) The staff team at CCC can also be booked for Lunch & Learns or meetings with your Company Coordinator group. Just get in touch!
Nachos are life. We're actively pursuing nacho sponsors. Also, perhaps a Pepto sponsor.